Robotalker Smart SMS
How will you feel when you spend a lot of time organizing and writing a perfect message about your product, and it blocks as spam? Ridiculous right? But it's true; any text message containing more than 320 characters can be blocked as spam. All of your effort along with your money will go in vain as more charges are spent for a longer message. So how to avoid such a situation and tell people about your product in the shortest message? The smart SMS marketing system offered by Robotalker is your solution. A short introductory message is sent by Smart SMS that contains a link that will take the people to detailed information about your product. It will cost only two SMS messages, and you can send HTML content up to 2000 characters, including images.
EXAMPLE TEXT: BlueCross is providing you a free virus checklist. Please click on this secure link to view: https://largemessage.com/a.ashx?6373832
Features of Smart SMS service:
Easily deliver PDF's, contracts, forms and checklists in a single text
Text messages are delivered as a short message including a link.

Use our built in editor to create your smart sms: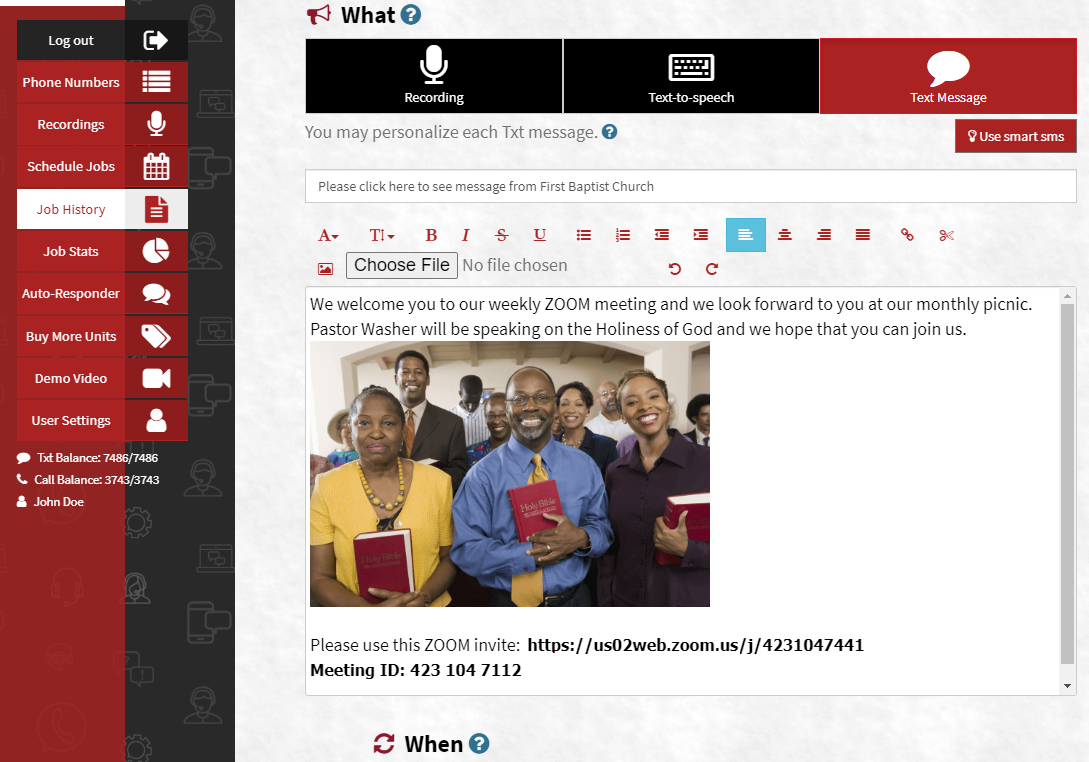 You can also send messages in all languages, either Korean, Russian, or Arabic, without the common SMS issues.
Add multiple images and links, fonts and all HTML is supports using our simple editor or copy paste.
Politicians can send a long description along with a self photo and a list of reasons to vote.
Marketers can send images, products description sheets including links to their website.
Medical check lists and instruction sheets can be sent in a single text messages.
Simply type in your message as normal with length up to 2000 charterers and it's automatic.
Send documents, contracts, multiple links and attachments
Logs a conformation that your message has been read by each recipient.
You can reach your potential audience directly and immediately.
You will get actual delivery reports that will help you to assess the success rate of your SMS promotional campaigns.
You can contact potential customers in their language, making your communication more effective.
Smart SMS marketing system allows you to send bulk SMS nationwide, anytime, through prompt SMS gateways.
It can also integrate and support other marketing channels, such as email, social media, etc.
You can get a quick response from customers, so there are high chances for converting a lead into a positive and increasing sales rate.
A survey has proven that SMS and text messages used for mobile phone advertisements have been known as an essential way of product promotion. So it is necessary to select the right one to make this method more effective. Robotalker is the best smart bulk SMS solution that offers you the most valuable smart SMS service.
For what purposes can you use Smart bulk SMS?